Find your course in our language school
Our language school in Frankfurt offers you the opportunity to improve your language skills in almost any language. We organise courses for you in the most popular foreign languages, such as English, Spanish or French. In addition, you can improve your language skills in many different languages together with us in our Frankfurt school.
On this page you will find an overview of the courses we offer. At our language school in Frankfurt, you can also choose between three different types of courses. With our selection of courses, there is something for every taste and every requirement. So don't hesitate and learn a language at our language school in Frankfurt now!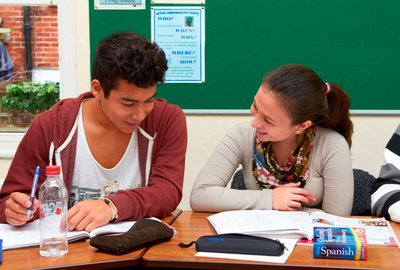 Discover the advantages of our Frankfurt intensive course.
Zum Englischkurs »
All language courses can also be done online. Learn languages in the usual Sprachcaffe quality with qualified language teachers in small groups or completely individually.
FAQ on the topic of language courses
Couldn't find the answer to your question? Then visit our FAQ!